LA&HA Symposium
The annual LA&HA Symposium is designed to exchange research and education among medical professionals in multiple fields of laser medicine, including aesthetics & dermatology, dentistry, gynecology and surgery. The Symposium focuses on practical instruction and presentations of laser medical procedures and research.
LA&HA offers a series of post-Symposium workshops exclusively for Symposium attendees. All workshops are held at the modern new premises of the LA&HA Institute, located right next to Fotona's headquarters.
Call for Abstracts and Invitation for Participation
The Laser and Health Academy (LA&HA) invites you to submit abstracts for the 9th LA&HA Symposium to be held from Friday, May 24th to Saturday, May 25th at the Rikli Balance Hotel in Bled, Slovenia.
This international event, co-hosted by Fotona, is designed to promote research and education among medical professionals in the field of laser medicine, with a focus on practical instruction and the presentation of the latest laser techniques and procedures.
Subjects
Submissions are encouraged from a wide range of laser applications in the fields of:
• Dentistry
• Aesthetics
• Surgery
• Gynecology and Urology
• Other
Presentations
Authors of accepted abstracts will be presenting their lectures as:
• Oral presentations within the General Scientific Lectures at the 9th LA&HA Symposium: these are 10 minute presentations with an additional 5 minutes for Q&A, or
• Poster presentations: accepted posters will be in place for the entire LA&HA Symposium. Poster presenters will be provided with a poster board. Digital audio-visual screens will not be provided.

Registration
Registration and booking is now open online for the 9th LA&HA Symposium. Please note that all speakers and poster presenters need to be registered as attendees of the LA&HA Symposium. As a speaker you will not need to pay the LA&HA Symposium fee (760 €), but you will need to cover your own travel and accommodation expenses.
The Laser and Health Academy also invites all laser experts and enthusiasts, who will not be submitting abstracts, to attend the 9th LA&HA Symposium, share your experiences and achievements and stay informed with the latest trends and practices in laser technology and treatments. Those who take advantage of our special early bird registration before March 31st will receive a discounted price of €620, after which the regular price of €760 will apply. Registration will remain open online until full venue capacity is reached. We suggest you register early to secure your place.
GUEST SPEAKER GUIDELINES:
Submission Deadlines
Authors wishing to present at the Symposium should submit their abstracts by February 28th 2019.
Abstract Guidelines 
All materials should be sent to journal@laserandhealth.com.
Please provide:
• TITLE
• AUTHORS
• AFFILIATIONS
• ABSTRACT (300 words maximum):
- study type (in vitro study, case report, case series, prospective before-after study, randomized controlled trial)
- treated indications
- device(s) used including wavelength
- description of control group if any
- number of patients
- duration of follow-up
Overviews of laser applications are discouraged as they will be covered in the plenary lectures.
Publishing
All accepted abstracts presented as oral presentations or posters will be published in the 2019 issue of the Journal of the Laser and Health Academy. Submission of the abstract constitutes permission for LA&HA to publish the abstracts in either printed or electronic format.
Review Notices
Only the abstracts with the most groundbreaking and educational content will be presented at the 9th LA&HA Symposium. The final Guest speakers lineup and Poster selection will be determined by the LA&HA editorial board. Abstract review results are expected to be sent by email on March 4th 2019.
Mark B. Taylor, MD, during a lecture. 
Symposium attendees posing for traditional photo.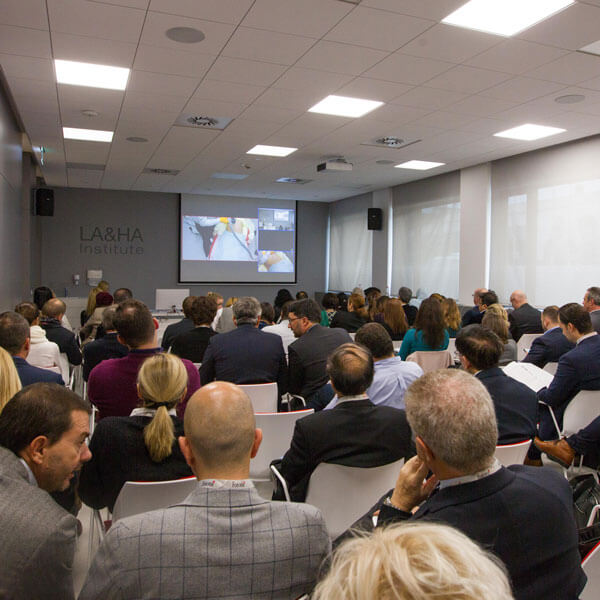 Attendees of post-Symposium workshops during practical lectures