LA&HA Symposium
NOTICE: The LA&HA Symposium organizing team has been closely monitoring the situation regarding the outbreak of coronavirus (COVID-19) in Europe. The health and safety of all Symposium attendees is always our highest priority, and for this reason, we have decided to postpone this year's Symposium in Slovenia. A LA&HA Online Symposium will be organised with the specific date announced shortly.


The annual LA&HA Symposium is designed to exchange research and education among medical professionals in multiple fields of laser medicine, including aesthetics & dermatology, dentistry, gynecology and surgery. The Symposium focuses on practical instruction and presentations of laser medical procedures and research.
LA&HA offers a series of post-Symposium workshops exclusively for Symposium attendees. All workshops are held at the modern new premises of the LA&HA Institute, located right next to Fotona's headquarters.
Call for Abstracts and Invitation for Participation
This international event, co-hosted by Fotona, is designed to promote research and education among medical professionals in the field of laser medicine, with a focus on practical instruction and the presentation of the latest laser techniques and procedures.
Guest Speakers' Guide
Topics
Submissions are encouraged from a wide range of laser applications in the fields of:
• Aesthetics, Dermatology and Surgery
• Dentistry
• Gynecology
• Male Health

Authors at the LA&HA Symposium will present their lectures within the sessions corresponding to the specific topics above.
Abstracts that will be presented as oral presentations will be published as full articles or summaries in the next issue of the Journal of the Laser and Health Academy. Submission of an abstract constitutes permission for LA&HA to publish the abstract in either printed or electronic format.
Presentations Guideline
Authors of accepted abstracts will be presenting their lectures as oral presentations: these are 7 min presentations with an additional 3 min of Q&A.
All presentations will be part of a session covering a specific group of applications. The introduction of the background, prevalence and etiology of the treated conditions and mechanism of laser action will be covered by a keynote lecture at the beginning of each session. In order to keep the focus on your results; please do not include the above-mentioned background information into your presentation.
• Your presentation should include:
• Details about the performed clinical studies - study size (number of patients); type of study (prospective / retrospective; case series / case study; controlled or uncontrolled; randomized or non-randomized) etc.
• Details about the evaluation methods used
• Videos showing techniques are very welcome.
• Before and after photographs should be accompanied by the list of the procedures taken, number of received sessions and the amount of time since the last treatment when the image was taken (patient approval for using photos should be obtained beforehand).
• Photographs should be of good quality and should be taken in the same conditions and without alterations.

Mark B. Taylor, MD, during a lecture. 
Symposium attendees posing for traditional photo.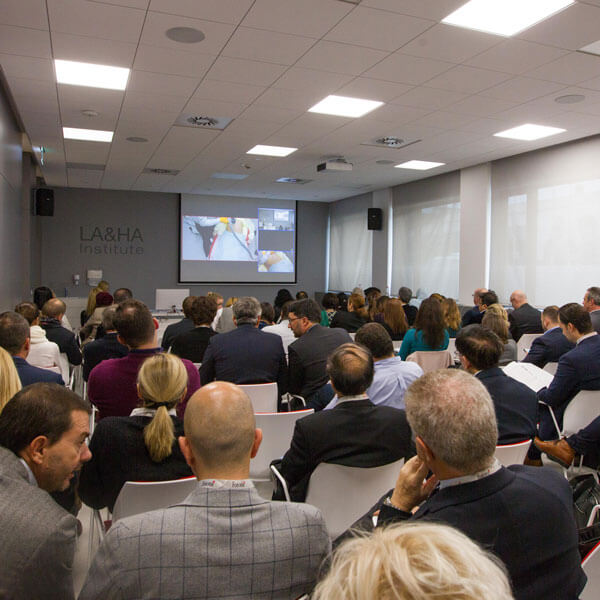 Attendees of post-Symposium workshops during practical lectures