LA&HA Symposium
The annual LA&HA Symposium is designed to exchange research and education among medical professionals in multiple fields of laser medicine, including aesthetics & dermatology, dentistry, gynecology and surgery. The Symposium focuses on practical instruction and presentations of laser medical procedures and research.
LA&HA offers a series of post-Symposium workshops exclusively for Symposium attendees. All workshops are held at the modern new premises of the LA&HA Institute, located right next to Fotona's headquarters.
Call for Abstracts and Invitation for Participation
The Laser and Health Academy (LA&HA) invites you to submit abstracts for the 8th LA&HA Symposium. This international event, co-hosted by Fotona, is designed to promote research and education among medical professionals in the field of laser medicine, with a focus on practical instruction and the presentation of the latest laser techniques and procedures. Subjects Submissions are encouraged from a wide range of laser applications in the fields of:
Dentistry 
Aesthetics 
Surgery 
Gynecology
Presentation and Publishing Authors of accepted abstracts will have the opportunity to present their lectures at the LA&HA Symposium as Oral presentations: these are 15 minute presentations with an additional 5 minutes for questions & answers. All accepted abstracts that will be presented as oral presentations and posters will be published as full articles or summaries in the next issue of the Journal of the Laser and Health Academy. Alternatively, authors can decide to submit their lecture in the form of a short one-page case study with before / after images that will, if accepted, also be published in the next issue of the Journal of the Laser and Health Academy. Submission of the abstract constitutes permission for LA&HA to publish the abstracts in either printed or electronic format.
Submission Process
All materials should be sent to journal@laserandhealth.com. Please note the following submission guidelines and instructions for authors.
Submission Deadlines
Authors wishing to submit materials should provide LA&HA with the title and abstract by March 25th. Full articles/manuscripts (or summaries /case studies) must be submitted by April 8th.
Review Notices
Abstract review results are expected to be sent by email on March 31st.
Registration
Please note that all oral and poster presenters will be registered as delegates for the LA&HA Symposium. On-line registration and booking will be available in March. The Laser and Health Academy also invites all laser experts, who will not be submitting abstracts, to attend the LA&HA Symposium and stay informed about the latest trends and practices in laser technology and treatments. A preliminary program will be sent by the end of April.
Mark B. Taylor, MD, during a lecture. 
Symposium attendees posing for traditional photo.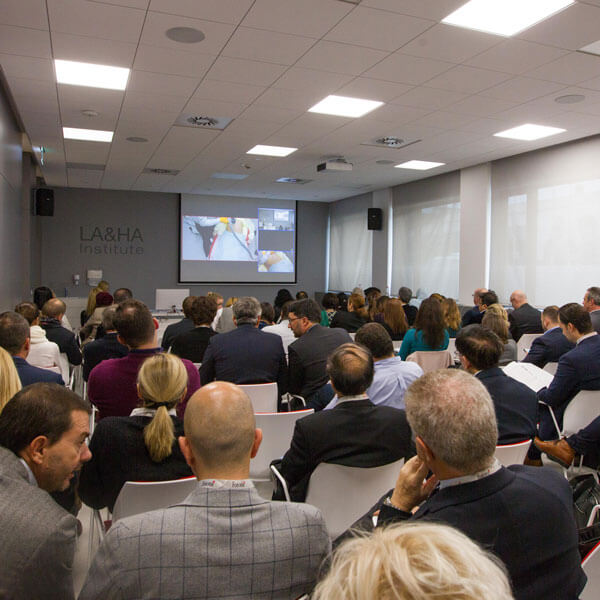 Attendees of post-Symposium workshops during practical lectures